Power Dekor Launches New Products to Global Market
Views: 739 Author: Power Dekor International Publish Time: 2021-04-07 Origin: www.powerdekorgroup.com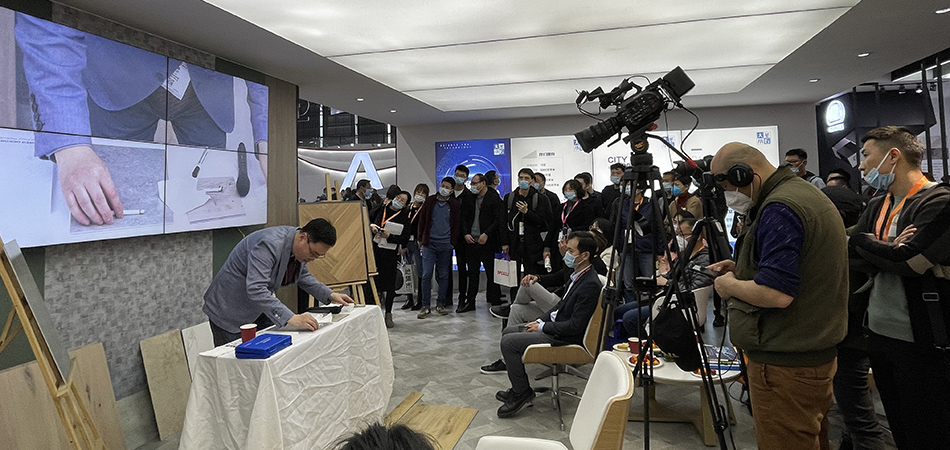 INVENTIVE 'N' INNOVATIVE
---
Power Dekor launches its new products with updated technologies and fresh designs at DOMOTEXasia Exhibition, Shanghai. It is the first official conference for Power Dekor's vinyl floors broadcasted to the global market.
For Power Dekor, the event is a new milestone in the rollout of its international network of Value Added Resellers for Power Dekor. Power Dekor specializes in unified flooring and wall panel solutions.
Digital Conference, Online Presentation And More
" Live Broadcast came to our attention during the Covid-19 crisis. It was remarkable which enables our clients, who aren't able to visit us due to the coronavirus, to see our new achievement. "
explains David Shi, General Manager of International Business Centre, Power Dekor.
About 'INVENTIVE N INNOVATIVE'
'INVENTIVE'
---


AquaREPELTM
Choose a budget-friendly wood composite flooring, laminate comes first. With upgraded printing technology, it' s hard to tell laminate from real wood. Compared with vinyl composite flooring, laminate is warmer and more indentation resistant. But what makes laminate be dwarfed is that wood is prone to water damages. AquaREPELTM is right here to conquer water damages.
Diamond GardTM
If you're shopping for the best water-resistant flooring, rigid core flooring should definitely be on your shortlist. It's a hybrid that combines waterproof property of vinyl flooring and dent resistant attribute of hard surface flooring. Now, it's enhanced with ultra-resistant features like scratch, impact and cigarette burns with Diamond GardTM finish. Take a look of what troubles Diamond GardTM can fix.

U-ProtectTM
U- ProtectTM is a proprietary acrylic-based coating system that benefits vinyl flooring with enhanced stain resistance property. All Power Dekor vinyl products are coated with U- ProtectTM as standard.
Double Fiberglass LVT Loose Lay
Considering some users who prefer to install floorings by themselves, LVT loose lay is specially designed basing on LVT dryback. Power Dekor upgrades its structure to be more complex in order to achieve the ultimate dimensional stability, meanwhile, it ensures its waterproof features and guarantees its easy installation by its anti-slip feature.
'INNOVATIVE'
---
RefleXTM
High gloss finish on vinyl flooring is a big challenge to the industry. But now, Power Dekor leads the trend again and breaks through this technical problem. RefleXTM gives smoother touch and brighter impression to vinyl floorings due to the production process for stable flatness. At the same time, RefleXTM also accomplishes scratch/scuff/wear resistance.

It is hard to recognize first-grade natural stone tiles and RefleXTM SPC flooring with marble pattern. It draws the appearance from tiles but also provides warm foot feel and high intensity.
More Info: Coming soon…
VSPC
A brand new flooring product with the advanced coating system, Diamond Gard. Power Dekor takes advantages of vinyl material to pursue the highest standard of natural flooring with water resistant performance.

Diamond Gard VSPC features real wooden or bamboo veneer to offer natural and warm feelings but also provides vinyl's features to withstand daily spilled water, scratches, scuffs and stains an active space will face.
Mix & Match
Mix &Match plays a variety of different splicing, which can bring different visual effects to the space. Power Dekor uses a very unique and optional width to splice them together that breaks traditional floorings.
The visual effect is more bold and flexible, whilst the entire space has full of personality fashion sense. Mix & Match gradually gets the attention of more and more people and join the trend to be a kind of fashionable decoration in the world.

More Info: Coming Soon…
New Collections
Alps - Marble
Alps combines luxury with nature to brings up peaceful atmosphere but warm texture. It creates enjoyment by European style and reflect the natural beauty. The most versatile stone design vinyl floors available with SPC, LVT and Diamond Gard™ SPC construction.

Vintage - Herringbone
A mix between European designs of wooden boards with aged natural tones is presented by Vintage to brings illuminating and fresh manner. The most realistic herringbone vinyl floors available with SPC, LVT and Diamond Gard™ SPC constructions.

Hallerbos - European Wood
Hallerbos brings up the fresh and soft forest wood effect and creates the welcoming environment for spaces. The most realistic wood vinyl floors available with SPC, LVT and Diamond Gard™ SPC constructions.

Commitment
---
Power Dekor ensures floorings practicability, fashion and safety for users through inventive technologies and innovative designs. Supported by a specific know-how of the flooring industry and the technological capacity to improve decoration solutions, Power Dekor enables its products to become and stay resilient in a changing world.
Power Dekor is founded in 1995 and headquartered in Shanghai, China.
Power Dekor CEO Jianjun Chen
To learn more about Power Dekor's products and solutions, contact us at info@powerdekorgroup.com.